Along with your Faery Hunt entertainment, our Faery Catering associate can assist you in adding to the fun and magic of your Faery Party. Push the easy button and have your party Faery Catered! To make inquiries or to order contact caterer directly by clicking here Catering or call Lisa at 310.245.5951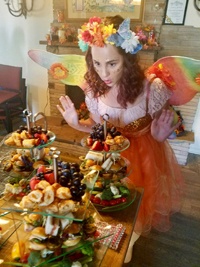 Faery Boxes (minimum order of 5 on the boxes):
Each box comes specially wrapped and labeled with a special Faery surprise inside.
$12- "Lilith" box:
1/2 tea sandwich
1 tart or pastry
1 veggie bundle w dip, chips, or fruit
$15- "Gwyneth" box:
1 tea sandwich
1 scone, tart or pastry
1 veggie bundle w dip
1 fruit or chips
1 juice box or water
Catering Services
Al La Carte Platters:
Asst. Finger Sandwiches (see options below)
$45 Petite: serves 5-10
$65 Garden: serves 10-15
$85 Forrest: serves 15-20
Crudité basket: (served with green goddess dip or hummus)
$40 Petite: $serves 5-10
$50 Garden: serves 10-15
$60 Forrest: serves 15-20
Enchanted salad: (floral greens, cherry tomatoes, feta w miso dressing)
$25 Petite: $serves 5-10
$30 Garden: serves 10-15
$45 Forrest: serves 15-20
Sweetie tray: (see options below)
$50 Petite: serves 5-10
$60 Garden: serves 10-15
$70 Forrest: serves 15-20
Custom Packages:
"The Enchanted Garden" $250 (serves 10-15)
Choice of 1 -2 Tea Sandwiches
Crudité Basket
Mini mincemeat pies
Faery Punch
"The Hunter"– $450 (serves 15-20)
Choice of 4 Asst. Tea Sandwiches
Crudite Basket
Fruit platter
Mini mincemeat pies & fruit tarts
Faery Punch & mini waters
Tea Sandwich options: All finger sandwiches are served crust-less on white, brown, or grain bread
§ Peanut butter & jam
§ Banana & Honey
§ Cucumber and veggie cream cheese
§ Ham & cheddar with honey grain mustard
§ Turkey & Chutney
§ Devil egg salad
§ Tuna & caper
§ Salmon & dill cream
§ Veggie flower garden
Crudite Basket:
Asst. seasonal vegetables with choice of either green goddess, ranch, or Mediterranean hummus
Puddings (Sweetie bits) made bite size:
§ Apple tart
§ Mincemeat pies
§ Cranberry scone
§ Banana caramel bread pudding
§ Oatmeal raisin cookies
§ Swirl brownie bites
§ Fruit options (applesauce, grapes, apple, banana, seasonal berries)
All ingredients are prepared fresh
*Custom and al la Carte orders on boxes and catering available upon request. For inquires and dietary needs please contact by click here A Faery Hunt Catering or call Lisa at 310.245.5951
** Delivery charges apply (between $30 & $50) pick up available
*** Discounted pricing on orders over 20